Super Simple Seafood Curry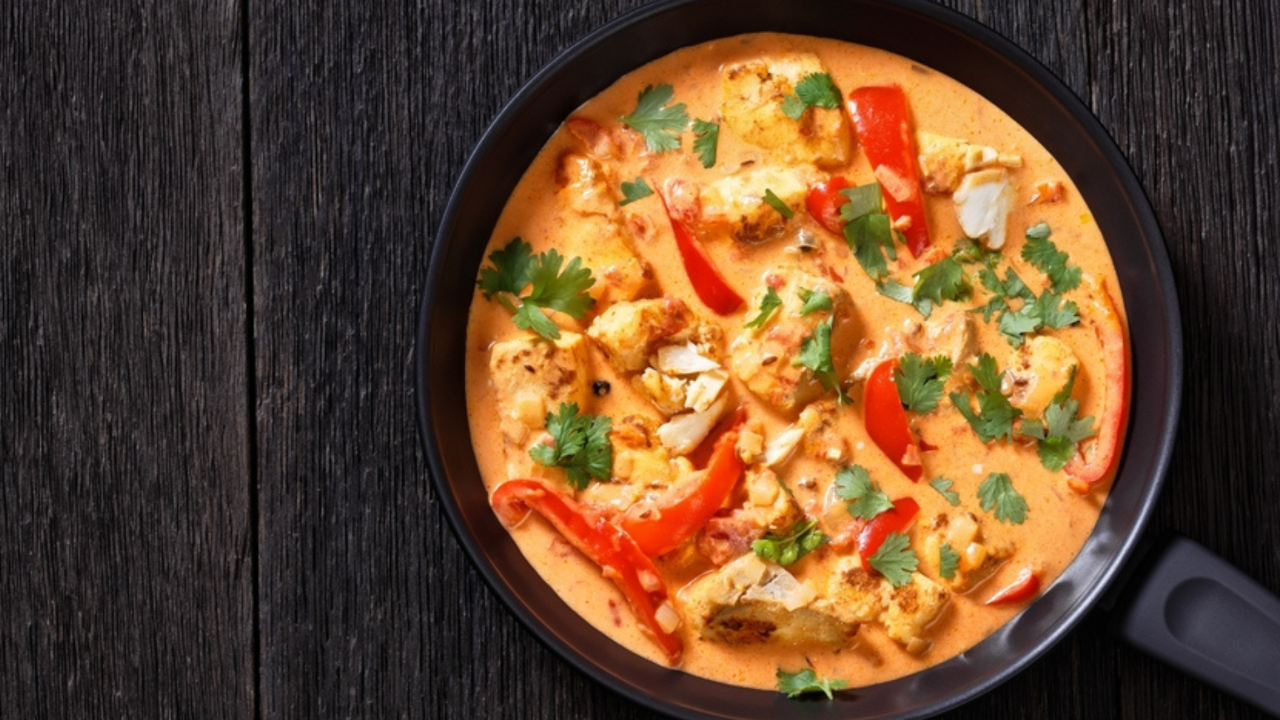 There is a good reason that curries are a regular feature in my books and when I do my thing. They are a great vehicle for some of the most potent medicinal spices that we have access too, plus a lot of the base ingredients pack a punch too. Look at this array for a start:
Turmeric - the orange colour pigments, the curcuminoids, have an anti-inflammatory and antioxidant effect.
Garlic - prebiotic, antiviral, anti-inflammatory.
Red onions - Rich in polyphenols that can lower blood pressure and help support a healthy microbiome.
Coriander seed - Carminative.
Give this super simple, protein, zinc, selenium and phytochemical packed curry a bash.
Ingredients:
2 tablespoons extra virgin olive oil
1 large red onion, chopped
3 cloves garlic, minced
1 tablespoon grated ginger
1 tablespoon curry powder
1 teaspoon ground turmeric
1 teaspoon ground cumin
1 teaspoon ground coriander
1/2 teaspoon chilli flakes
400ml tin of coconut milk
400g tin of chopped tomatoes
1 red pepper, chopped
1 courgette, chopped
500g mixed seafood (prawns, mussels, squid, etc.)
Salt and pepper to taste
Fresh coriander leaves, chopped, for garnish
Instructions:
Heat the vegetable oil in a large saucepan or Dutch oven over medium-high heat. Add the onion and sauté for 3-4 minutes until softened.

Add the garlic and ginger and cook for 1-2 minutes until fragrant.

Add the curry powder, turmeric, cumin, coriander, and chilli flakes and stir to coat the onions.

Pour in the coconut milk and chopped tomatoes, and stir to combine. Bring to a boil, then reduce the heat and simmer for 10 minutes, stirring occasionally.

Add the chopped red pepper and courgette, and cook for another 10 minutes until the vegetables are tender.

Add the mixed seafood and stir gently to combine. Simmer for 5-7 minutes, or until the seafood is cooked through.

Season with salt and pepper to taste.

Serve the seafood curry hot, garnished with chopped fresh coriander leaves.